Friday, January 21, 2022
This talk is the 2nd lecture in the Yale University Press-Yale Center Beijing "Find Your Next Great Read" Series.
Event Time
January 21, 2022 | Friday
12:00 pm - 1:00 pm Greenwich Mean Time (GMT)
January 21, 2022 | Friday
8:00 pm - 9:00 pm China Standard Time (CST)
Participation Format

Registration is required to obtain a ZOOM Conference access link, which will be sent to your registration email or phone shortly. Please enter the ZOOM room 15 minutes before the starting time. When the room is full, latecomers will not be able to access the ZOOM conference.
Registration
Please click "HERE" to register.
Please send an email to yalecenterbeijing@yale.edu if there are any problems.
Ticket
Free
LANGUAGE
The language of the event will be English.
The Event
On January 21st, Jeremy Black, Emeritus Professor of History at the University of Exeter, will share about his latest book A Short History of War, published by Yale University Press, which addresses the key questions in military history.
He will examine war as a global phenomenon, looking at the First and Second World Wars as well as those ranging from Han China and Assyria, Imperial Rome, and Napoleonic France to Vietnam and Afghanistan. Black explores the significance of warfare more broadly and the ways in which cultural understandings of conflict have lasting consequences in societies across the world.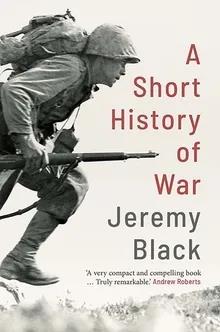 The Speaker

Jeremy Black
Emeritus Professor of History, University of Exeter
Jeremy Black is a prolific lecturer and writer, the author of over 100 books. Many concern aspects of eighteenth century British, European, and American political, diplomatic, and military history, but he has also published on the history of the press, cartography, warfare, culture, and on the nature and uses of history itself.
Black is Emeritus Professor of History at the University of Exeter. Graduating from Cambridge with a starred first, he did postgraduate work at Oxford, and then taught at Durham, eventually as professor, before moving to Exeter in 1996. He has lectured extensively in Australia, Canada, Denmark, France, Germany, Italy, New Zealand, and the USA, where he has held visiting chairs at West Point, Texas Christian University, and Stillman College. He was appointed to the Order of Membership of the British Empire for services to stamp design.