Saturday, April 8, 2023
Keynote Speakers

Peter Salovey '83 M.S., '84 M.Phil., '86 Ph.D.
President and Chris Argyris Professor of Psychology, Yale University
Peter Salovey is the twenty-third president of Yale University and the Chris Argyris Professor of Psychology. Since becoming president in 2013, he has led the development of new programs and facilities across the schools and departments of Yale, consistent with the vision and strategy he articulated earlier in his presidency. Advancements include restructuring and expanding the Faculty of Arts and Sciences and the School of Engineering and Applied Science, launching the Jackson School of Global Affairs, transitioning Yale School of Public Health into a self-supporting independent school from the Yale School of Medicine, and opening two new residential colleges, increasing Yale College enrollment by 15 percent. He is advancing innovative teaching on campus; amplifying Yale's partnerships in Africa, Asia, and other parts of the world; and enhancing multidisciplinary collaboration and entrepreneurial opportunity for faculty and students. President Salovey is committed to improving access to a Yale education for students worldwide regardless of their financial background. He earned a Ph.D. (psychology) at Yale in 1986 and then was appointed to the faculty. He has authored or edited over a dozen books translated into eleven languages and published hundreds of journal articles and essays. With John D. Mayer, he developed a broad framework called "emotional intelligence." In 2013, he was elected to the American Academy of Arts & Sciences and the National Academy of Medicine.

Ping Huang
Consul General at Consulate General of
the People's Republic of China in New York
Mr. Ping Huang assumed duties as Consul General of the People's Republic of China in New York in November 2018. This is his fourth appointment in North America and his second appointment of Consul General in the United States. He previously served as Consul General of China in Chicago from 2007 to 2010 and Counselor at the Chinese Embassy in Canada from 1999 to 2002. In 1988, he began his foreign appointment as an attaché and third secretary at the Chinese Embassy in Washington D.C.
Prior to his current appointment, he served as Ambassador Extraordinary and Plenipotentiary to the Republic of Zimbabwe from 2015 to 2018. In that role, he kept China-Zimbabwe relations steady despite of the military coup in Zimbabwe, and elevate the bilateral relations to comprehensive strategic partnership.
Mr. Huang began his diplomatic career in 1983 as a clerk at the Treaty and Law Department in Ministry of Foreign Affairs (MFA) of China, and subsequently, as a member of Central Government Lecture Group to teach in Hubei Province. After his tenure in Washington D.C., he returned to China to work as Deputy Division Director and then Division Director at the Consular Affairs Department in MFA. When he came back from Canada, he served as the Deputy Mayor of Shaoxing City in Zhejiang Province until 2004. He returned to Foreign Ministry's Consular Affairs Department, serving as its Deputy Director-General and then Director-General. In that role, he promoted the 10-year multiple-entry visa agreement between China and US, set up the Global Emergency Call Center of Consular Protection and Services for Chinese citizens, established China's first Consular Service Website, compiled the book China Consular Affairs, and oversaw the evacuation of Chinese citizens from Libya and Yemen and handled the MH370 Incident.
Mr. Huang earned his B.A. degree in Science from East China Normal University and M.A. degrees in Arts and Public Administration from Tsing Hua University and the London school of Economics and Political Science. He also had study experience at China Foreign Affairs Univerisity and Harvard Kennedy School. Mr. Huang was born in January 1963 in Guizhou Province. He is married and has one son.

Winston Lord '59
Former US Ambassador to China
Chairman Emeritus, International Rescue Committee
Winston Lord was the US Ambassador to China from 1985 to 1989,the Assistant Secretary of State for East Asian and Pacific Affairs from 1993 to 1997, and is currently Chair Emeritus at the International Rescue Committee. Prior to those roles, Ambassador Lord was the Special Assistant to the National Security Advisor, where he accompanied Henry Kissinger on his secret trip to Beijing in 1971, President Nixon on his first official US visit to China in 1972, and President Ford on his visit in 1975. Lord attended every meeting in the 1970s that Nixon, Ford, and Kissinger held with Mao (five times), Zhou and Deng (100s of hours). He was a principal drafter of both the 1972 Shanghai Communiqué, which opened relations with China, and the 1973 Paris Peace Accords, which ended the Vietnam War. He authored "Kissinger on Kissinger: Reflections on Democracy, Grand Strategy, and Leadership" about this period of his career. Ambassador Lord became the Director of Policy Planning at the Department of State from 1973 to 1977 and then the President of the Council of Foreign Relations from 1977 to 1985. He was also a member of the National Endowment on Democracy, Asia Society, American Academy of Diplomacy, the America-China Society, the Aspen Institute of Distinguished Fellows, the Women's Tennis Association, and the Committee for Human Rights in North Korea, and has won the State Department's Distinguished Honor Award and the Defense Department's Outstanding Performance Award. Ambassador Lord graduated magna cum laude from Yale in 1959 and received an M.A. at the Fletcher School of Law and Diplomacy in 1960.

Robert D. Hormats
Vice Chairman, Kissinger Associates, Inc
Robert Hormats has been a senior official in the administrations of five different American presidents, a top executive on Wall Street and major business leader working with companies in the United States and throughout the world. His most recent government job was Under Secretary of State for Economic Growth, Energy and the Environment. He is currently Vice Chairman of Kissinger Associates, Inc.
He has over a 25 year career at Goldman Sachs and was formerly Vice Chairman of Goldman Sachs (International). He played a key role on a variety of international economic and financial matters , including privatizations of state enterprises in countries such as China, Singapore, Britain, Germany and Mexico. He also was part of Goldman Sachs teams that structured and underwrote bond and stock issues in the U.S. and abroad. He also was the firm's leading spokesman regarding the international economic and financial outlook and developments in key financial and investment markets.
Bob accompanied President Obama and Secretary Clinton on several Summits and high level economic visits to these countries and others. He also led U.S. Government and U.S. business delegations to these countries and to international groups such as ASEAN, APEC, the St. Petersburg Global Forum and the Brussels Global Forum.
Jim Rogers '64
Co-Founder, Quantum Fund
Mr. Jim Rogers graduated with a bachelor's degree cum laude in history from Yale University in 1964. Mr. Rogers also acquired a second BA degree in philosophy, politics, and economics from the University of Oxford, He is an American investor and financial commentator based in Singapore. Mr. Rogers is the chairman of Beeland Interests, Inc. He was the co-founder of the Quantum Fund. He was also the creator of the Rogers International Commodities Index (RICI).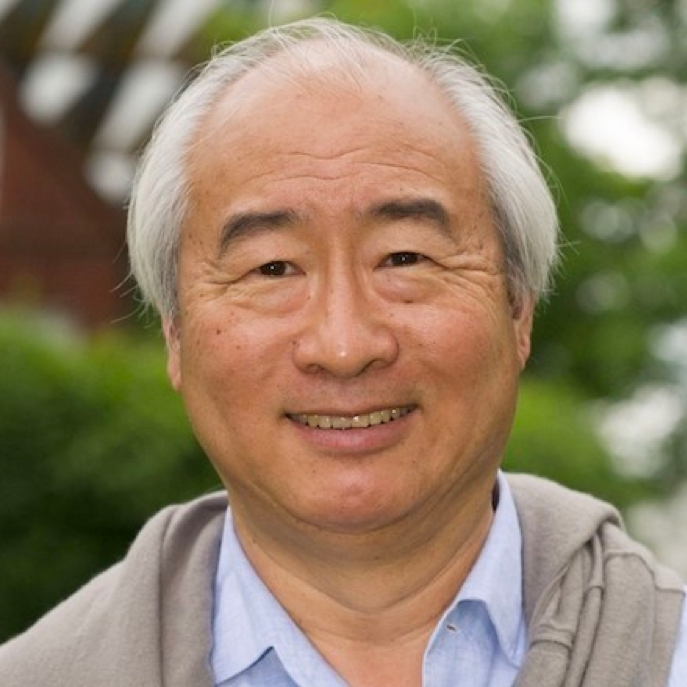 Kenneth R. Chien
Co-Founder, Moderna
Kenneth R. Chien MD, Ph.D. is a Distinguished Professor of the Swedish Research Council at the Karolinska Institutet (KI) in Stockholm and a Co-Founder of Moderna Therapeutics. Over the past four decades, he has served as a senior advisor/Board Member in biotechnology, (e.g., Genentech, Roche, AZ, GSK, Wyeth, Pictet Biotech Fund, EQT Private Equity-Life Sciences, and Pfizer), and was a Co-Founder of the Institute of Molecular Medicine at Peking U. Kenneth, a 3rd generation Harvard alumnus, formerly was the Sanders Chair in Stem Cell and Regenerative Biology at Harvard before receiving a Presidential Appointment to KI. For his work on heart development and regeneration, he has received several awards, including membership in the Austrian and Norwegian Academy of Sciences, the Walter B Cannon Award of the American Physiological Society, The Pasarow Award, and an honorary Doctorate from the University of Edinburgh.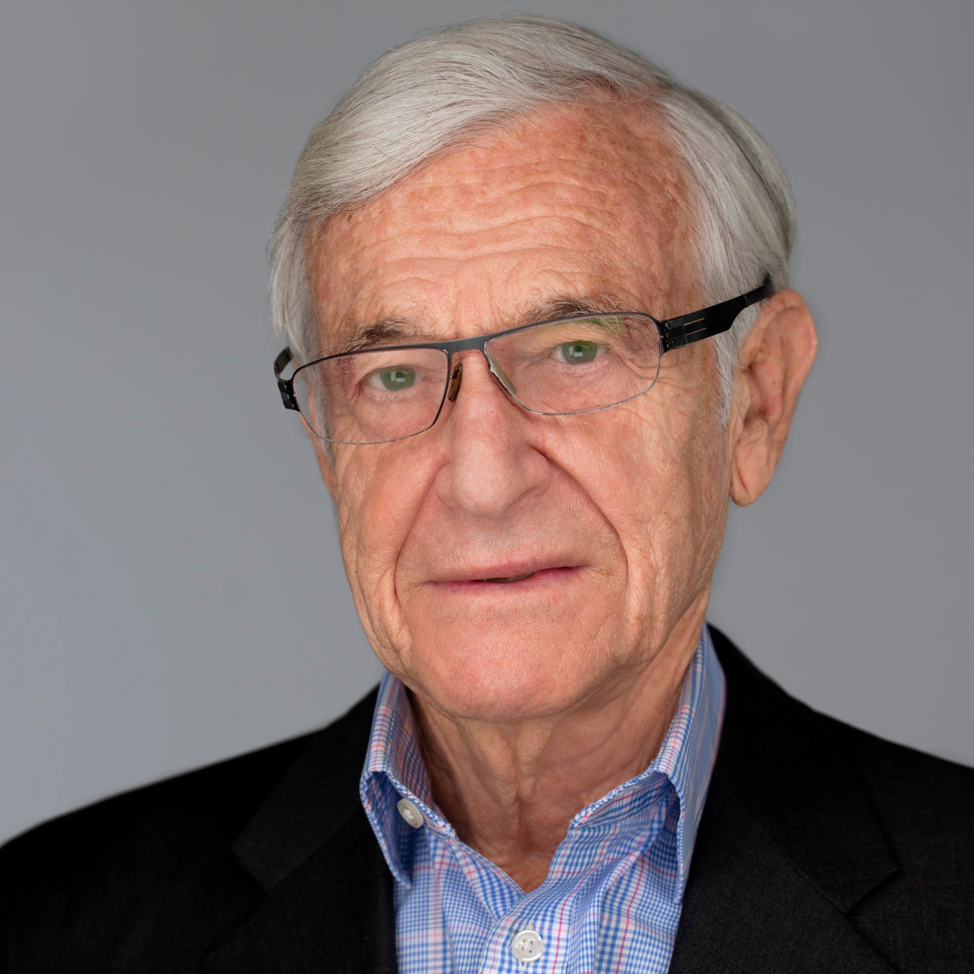 Alan Patricof
Chairperson & Co-Founder, PrimeTime Partners
Chairman Emeritus & Co-Founder, Greycroft
A longtime innovator and advocate for venture capital, Alan entered the industry in its formative days with the creation of Patricof & Co. Ventures, a predecessor to Apax Partners, now one of the world's leading private equity firms. In 2006, he founded Greycroft Partners, a venture capital firm where he is currently Chairman Emeritus, to invest in leading early and expansion stage companies. Alan has since left Greycroft to take on a Founding Partner and Chairperson role at Primetime Partners.
He was the founder and chairman of the board of New York magazine, which later acquired the Village Voice and New West magazine. He is currently also a member of the Council on Foreign Relations.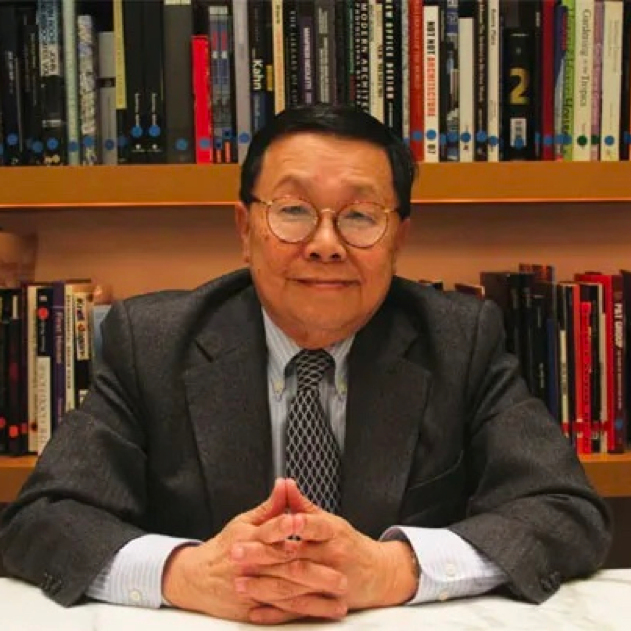 Henry Tang
Managing Partner, Carnegie Towers Strategic Investment Advisory
Henry Tang is a seasoned 30-year investment banking veteran of Wall Street having participated in and observed the global transformation of the capital markets. As a securities management executive, he has been engaged in global investment and banking activities in Europe, Asia and the U.S. for several of the largest Wall Street investment banks including Salomon Brothers, Lehman Brothers and Prudential.
Henry Tang's business experiences have also been enhanced by a broad participation in numerous public and community activities. He has been active in many efforts to help bridge cultural and economic understanding between the China region and the U.S. and between Chinese Americans in the U.S.
Together with I.M. Pei, Yo-Yo Ma, and a group of prominent Americans of Chinese heritage, Mr. Tang helped found the Committee of 100, whose 159 person membership now includes Computer Associates CEO Charles Wang and renowned AIDS researcher Dr. David Ho, to help create a better understanding of American and Chinese cultural and economic events.
In addition, Mr. Tang also has a long-standing commitment towards fostering conditions for the advancement of Asians into senior leadership positions in business, politics, academia, medicine, science, and government. Several years ago, President George H.W. Bush appointed him to the Federal Glass Ceiling Commission chaired by then Labor Secretary Lynn Martin.
Mr. Tang has also served as a director of the Committee on Economic Development, the Federation of Protestant Agencies, the Chinese American Planning Council, the Asian Financial Society, and the Chinese American Executive Forum. He also served as a member of the New York-Beijing Sister City Commission. In 1987, Mayor Edward Koch granted him the Ethnic New Yorker Award. He is also the first recipient of the Asian American Business Achievement Award. In 1994, he was awarded the Ellis Island Medal of Honor.
Zhengyu Huang
President, Committee of 100
Zheng was born in Shanghai, China and came to the U.S. at the age of ten. Zheng was educated at Stanford University, with a B.S. in Industrial Engineering, B.A. in Economics, and M.S. in Computer Science. He also earned his MBA from Harvard Business School. After graduation, Zheng worked at Intel Corporation and rose to Managing Director and then served under President Obama as a White House Fellow and special assistant to the Administrator for U.S. Agency for International Aid. Thereafter, he started a financial service data firm that grew to 300 staff and 7 offices. He was most recently the Chairman of an education focused investment firm. He is the author of three books published in China that sold over 250,000 copies. He has lived in five countries, including the US, Germany, Japan, India, and China and traveled to over 80 countries.
Panel Speakers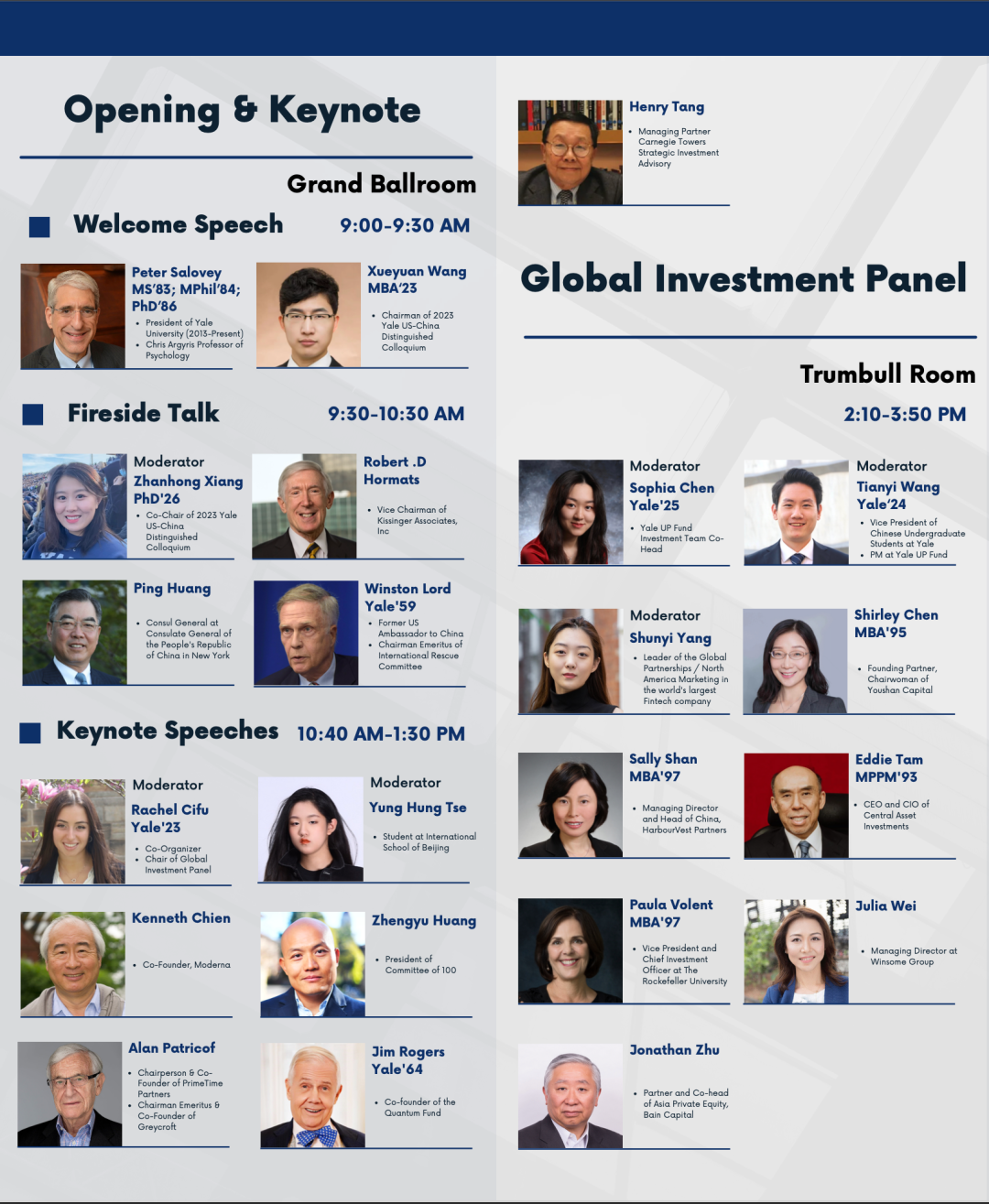 Event
Time:
EST: April 8, 2023
Location:
The Yale Club of New York City, 50 Vanderbilt Ave, New York, NY 10017
Registration
Registration link: https://www.yaleuschina.com or please click "HERE" to register.
Hosts:
Co-Hosts: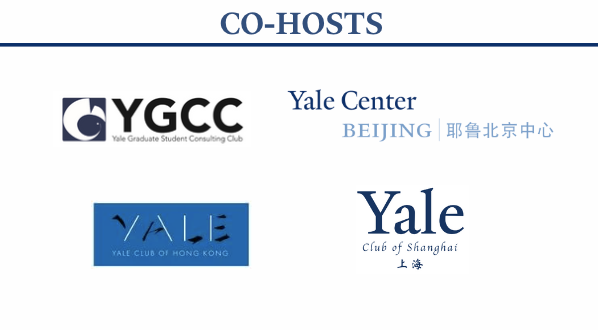 SPECIAL THANKS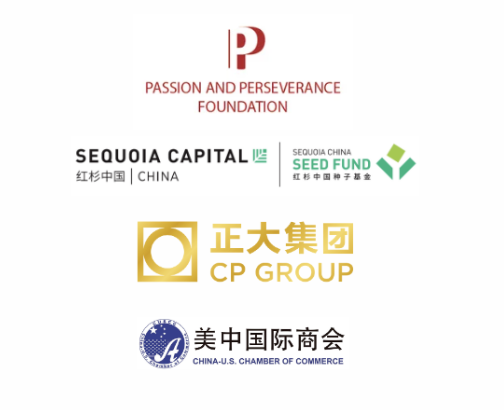 SPONSORS