Thursday, March 23, 2023
Co-hosted by RASBJ and Yale Center Beijing. This talk is part of the Yale University Press-Yale Center Beijing "Find Your Next Great Read" Series.
Event Time
Thursday, March 23, 2023
Registration & Reception with drink and refreshment
7:00-7:30 pm
Discussion and Q&A
7:30-8:30 pm
Location
Yale Center Beijing
36th Floor Tower B of IFC Building 8 Jianguomenwai Avenue Chaoyang District, Beijing (Yong'anli Subway Station, Exit C)
Registration and Fees
Registration
Please click "HERE" further below to register.
Please send an email to yalecenterbeijing@yale.edu if there are any problems. If you encounter any payment issues, please attach a screenshot that identifies the issue.
Ticket
Ticket (subject to approval): RMB 120 for Yale alumni and participants of past Yale Center Beijing programs; RMB 170 for regular admission.
Walk-ins will not be accepted.
LANGUAGE
The language of the event will be English.
Note: Seats are available on a first-come-first-served basis.
The Event
Contact between China and Russia can be traced back as far as the early seventeenth century. A large amount of fine, in-depth scholarship, Chinese, Russian and Western, has been devoted to studying the individual segments of the following four hundred years, but relatively few attempts have been made to consider the period as a whole.
In his new book, China and Russia: Four Centuries of Conflict and Concord, just published by Yale University Press, Philip Snow has undertaken this challenge. In his talk on March 23, he will focus on ten turning points in the Sino-Russian relationship, and will discuss what shifts and continuities they reveal, and the extent to which these enable us to understand the current partnership. The talk will be accompanied by illustrations and maps which chart the broader economic and cultural aspects of the Sino-Russian encounter.
Refreshments will be provided. The speaker will be livestreamed; attendees will be in-person only. This event is co-hosted by RASBJ and Yale Center Beijing, and moderated by Alan Babington-Smith, the Founding President of RASBJ.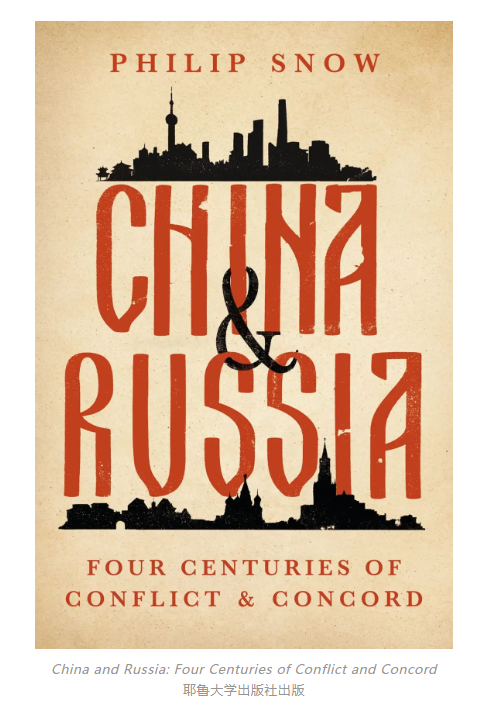 Speaker

Philip Snow
Writer
Philip Snow has travelled extensively in Russia and China since the 1960s. Graduating from Oxford University with a First Class Honours degree in Chinese, he has followed Sino-Russian relations for many decades. He is the author of The Star Raft: China's Encounter with Africa and The Fall of Hong Kong. He has lived in Hong Kong since 1994.
The Moderator

Alan Babington-Smith
Founding President, RASBJ
Alan Babington-Smith has lived and worked in both Russia and China. He is the Founding President of RASBJ.
For more information about RASBJ:
点击下方链接了解煌雅文化:
For more information about Yale Center Beijing:
点击下方链接了解耶鲁北京中心: