Friday, May 5, 2023
Co-hosted by Yale Club of Beijing and Yale Center Beijing.
Event Time
Friday, May 5, 2023
Registration
6:30 pm-7:00 pm
Discussion and Q&A
7:00 pm-9:00 pm
Location
Yale Center Beijing
36th Floor Tower B of IFC Building 8 Jianguomenwai Avenue Chaoyang District, Beijing (Yong'anli Subway Station, Exit C)
Registration and Fees
Registration
Please click "HERE" further below to register.
Please send an email to yalecenterbeijing@yale.edu if there are any problems. If you encounter any payment issues, please attach a screenshot that identifies the issue.
Ticket
Ticket: RMB 60 for Yale alumni and participants of past Yale Center Beijing programs; RMB 80 for regular admission.
Note:Walk-ins will not be accepted.
LANGUAGE
The language of the event will be Chinese.
Note: Seats are available on a first-come-first-served basis.
The Event
David F. Swensen '80 PhD, the longtime Yale Chief Investment Officer, was the most renowned and influential institutional investor. During his career, Swensen made outstanding contributions to Yale's endowment fund and had a profound impact on the finance industry. In commemoration of his legacy, Yale Club of Beijing and Yale Center Beijing will host the David Swensen Memorial event on May 5th, the second anniversary of his passing. Several Yale alumni in the investment industry will gather to honor him and discuss future investment opportunities.
Speakers

Sally Shan MBA '97
Managing Director and Head of China, HarbourVest Partners
Sally Shan focuses on private equity funds of funds investments, secondary markets, and direct co-investment deals. Prior to HarbourVest, she held various senior management positions at Lehman Brothers and J. P. Morgan.

Bing Yuan JD '98
Co-Founder and Managing Partner, Rockets Capital
Bing Yuan is the Co-Founder and Managing Partner of Rockets Capital. Prior to this, Mr. Yuan worked at Hony Capital for over 12 years, where he was responsible for all of Hony's equity investment operations, including private equity, venture capital, Goldstream hedge fund, and Horizon mutual fund, with a total AUM of over US$10 billion. Prior to Hony, he spent over 12 years in investment banking with Morgan Stanley and Credit Suisse in both New York and Hong Kong, and assisted numerous prominent Chinese companies in completing their IPO, corporate finance, and M&A transactions.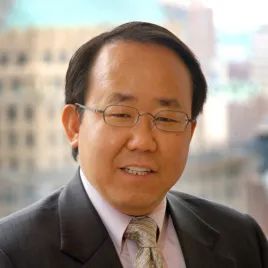 Charles H. Wang PhD '00
Chairman, Shenzhen Academia Capital Management
Charles H. Wang is currently the Chairman of Academia Capital Management, a China hedge fund based in Shenzhen. With almost 30 years of experience in international investment and fund management, Dr. Wang worked for 16 years in the United States specializing in quantitative investment, holding important investment positions, and serving as a senior partner in both Putnam Investments and Acadian Asset Management. After returning to China, he served as Chief Executive Officer of E Fund Management (Hong Kong), and later as the CIO of Quantitative Investment Department at Bosera Asset Management in Shenzhen.

Jack Liang MBA '07
Founding Partner, Kinzon Capital
Jack Liang is a Partner and Co-Founder of Kinzon Capital. Jack has over 13 years of investment and business operations experience. In his current role, he is responsible for investment decisions, deal sourcing, due diligence, deal execution, and portfolio management.
The Moderator

Helen Sun '13 MAM
President, Yale Club of Beijing
General Manager of the Industrial Investment Departmentof Internet 3.0,
Zhongguancun Tongli
Helen Sun is currently the general manager of the industrial investment department of Internet 3.0 at Zhongguancun Tongli and the chair of the professional committee on metaverse and Innovation Industry at Zhongguancun Science and Technology Entrepreneurs Association. She is responsible for the operation of the digital industrial zones, the operation of the science and technology innovation fund, the operation of the professional committee on metaverse and innovation industry, and the operation of the digital industry technology platforms. Helen also serves as president of the Yale Club of Beijing. She worked for Baidu and Huawei and its subsidiaries for many years, where she was responsible for strategy, industry research, product & operation, and procedure & quality.